The Most Magnificent Thing by Ashley Spires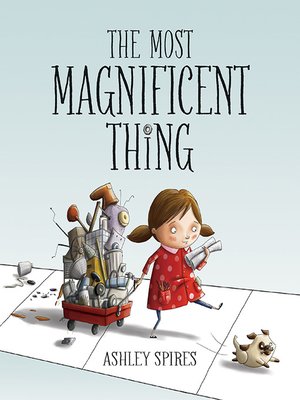 Kid Can Press 2014
The Story: A girl has a wonderful idea to make the most magnificent thing. She enlists the help of her best friend, who happens to be a dog, and gets to work trying to make her idea a reality. But translating her wonderful idea into what she pictured is hard, time consuming, and takes many trials and errors. Frustration builds until the girl explodes! Lucky her best friend has the perfect type of stress relief: taking him for a walk. The longer they walk, the more her frustration fades, until she's refreshed and able to return to her project and finally produce her most magnificent thing.
What Wallace and I Think: This picturebook hit home for me. Whether it's having an image in my mind that I struggle to put on paper just as I imagined, or translating an idea onto paper as eloquently as it seems in my head, turning an idea into a real thing is hard and rarely turns out just as I imagined it. This picturebook encourages perseverance, patience, and teaches the valuable lesson that creating something takes hard work.
What I found the most valuable piece of advice, something that has worked for me for years, is that sometimes you need to walk away from that idea for a while, gain perspective, and refresh your mind in order to come back stronger. This is a hard thing to do when you're in the middle of something, and want to get it done (or at least if you're like me and get a little obsessive about finishing something once you've started it).
Just like the unnamed girl, what usually works for me is taking Wallace for a walk, breathing in fresh air, playing in the dog parks, and just taking in nature. Then, without even trying, new ideas and thoughts float in. I have always figured out my best solutions and my greatest ideas when walking Wallace.
You've probably already guessed that one reason why I love this book is because it features a dog. And you would be right. The relationship between the girl and dog is great, and often times humorous. I also love how determined the girl is, and that her idea involves building something (girl power!) Especially powerful, are the models she makes before achieving her magnificent thing, the models she deems failures, are found to be useful to other people. Even "failures" have significance and a use. Mistakes are OK. Maybe even welcomed. And her final product is far from perfect, showing that being successful doesn't mean perfection. Heavy stuff people. These lessons are not just valuable to children, but to us grown-ups too.
I recommend this magnificent book not only to be read to children, but to all my fellow perfectionists, creatives, builders, and dreamers. It would make a nice gift to someone starting out on any new venture, or to someone struggles to make their wonderful ideas into a reality.